'Be Careful When Seeking Greener Pastures Abroad'
Date : 11 February 2019
Source : Borneo Post Online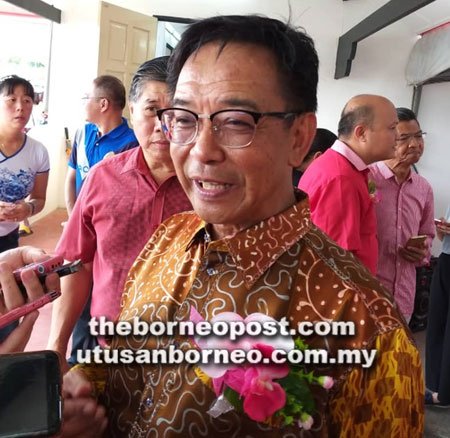 Abdul Karim fields questions from reporters during the gathering at the Wushu Federation of Sarawak headquarters.
KUCHING: Sarawakian youths must be careful when seeking or accepting job opportunities abroad so as not to fall victim to human trafficking syndicates.
Tourism, Arts, Culture, Youth and Sports Minister Datuk Abdul Karim Rahman Hamzah said prior to accepting any offer, it is important to carry out a thorough check to ensure the prospective overseas employer is legitimate and not involved in any illegal activities.
"Due to communication now being very advanced, we (government) cannot stop or monitor youths who go abroad seeking greener pastures.
"All we can do is remind them to be extra careful when deciding to seek employment abroad, to avoid being cheated or exploited," he said when officiating at a Chinese New Year gathering at the Wushu Federation of Sarawak headquarters, here yesterday.
Abdul Karim, who was responding to queries by journalists on the detention of 47 Malaysians in a Cambodian provincial jail for alleged involvement in illegal online gambling, said he was saddened upon being informed that 44 of the detainees are from Sarawak.
He also said he was confident that the federal government, through the Foreign Affairs Ministry, is doing all it can to aid the detainees.
"On the part of the state government, there is nothing we can do at the moment as it involves the laws of another country.
"If we were to go there (Cambodia) and ask for the release of the 44 Sarawakians, they (Cambodian government) will not entertain us. In this matter, we must work together with Wisma Putra in finding a solution," he said.
Scan the above QR code to access this portal through mobile

Copyright © 2018 Sarawak Government

Disclaimer: The Government of Sarawak shall not be liable for any loss or damage caused by the usage of any information obtained from this portal. Services provided through this portal are subject to the terms and conditions of the respective service providers.

Best viewed with latest Mozilla Firefox and Google Chrome; Screen resolution 1024 by 768 pixels
Last Updated Date : 21 May 2019
Contact Us
:
State Secretary
Sarawak State Secretary Office
Level 20 , Wisma Bapa Malaysia
Petra Jaya, 93502 Kuching
Tel :082-441957
Fax :082-441677
email: