Temple Receives RM2.3 Mln From Sarawak Govt
Date : 11 January 2019
Source : Borneo Post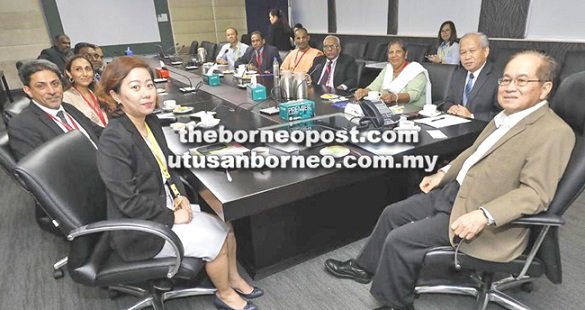 Uggah (right), Lim (left), Shankar (second left), Ngenang (second right), Linggam (third right) and others during the courtesy call.
KUCHING: Sri Mahamariamman Temple received a cheque of RM2.3 million from Deputy Chief Minister Datuk Amar Douglas Uggah Embas yesterday.
The cheque was presented when the temple president and executive committee paid a courtesy call on Uggah at his office in Wisma Bapa Malaysia.
Chief Minister Datuk Patinggi Abang Johari Tun Openg had announced the approval of RM2.3 million for the construction of the multipurpose hall, new temple building and road access of the temple at Jalan Rock here during the temple's charity dinner on July 4 last year.
"This reflects the Gabungan Parti Sarawak (GPS) government's policy of inclusivity towards the various religions and beliefs of the people in Sarawak," said Uggah, before presenting the cheque to Sri Mahamariamman Temple president Shankar R.P. Asnani.
The allocation is funded under the People's Project (Projek Rakyat), previously known as Walkabout Project.
Uggah, who is the minister in charge of Unit for Other Religions (Unifor) advised the temple committee to use the allocation wisely and for the intended purpose.
He said that Unifor would be going around to check on projects that received allocations from the unit in 2017, 2018 and this year.
Besides that, it would be verifying new applications received this year before putting them up to the Project Evaluation Committee for further consideration, he said.
He said that this year Unifor had been allocated RM30 million to assist religions other than Islam to repair and build their houses of worship while last year they were given about RM35 million.
He further said the government hoped to see the people maintain a high degree of religious tolerance, acceptance and mutual respect among each other so that Sarawakians can continue to live in peace and harmony.
He further said Sarawak is the only state in Malaysia that has a unit for other religions besides Islam to serve the non-Islamic communities, which formed about 75 per cent of its population.
He said Unifor does not only look into the welfare of the non-Muslim houses of worship but also into the economic problems of the non-Muslim community in the state, and Unifor has set up a charitable trust for that purpose.
To a question, he said Unifor would also assist people who practise old and traditional religions as long as they are non-Islamic.
Among those present were Unifor director Datu Dr Ngenang Janggu, State Planning Unit principal assistant secretary Ivy Lim, Sarawak Indian Women president Kapitan Lucy Linggam, Indian Association of Kuching advisor Anthony Ramanair and Association of Churches Sarawak secretary general Ambrose Linang.
Scan the above QR code to access this portal through mobile

Copyright © 2018 Sarawak Government

Disclaimer: The Government of Sarawak shall not be liable for any loss or damage caused by the usage of any information obtained from this portal. Services provided through this portal are subject to the terms and conditions of the respective service providers.

Best viewed with latest Mozilla Firefox and Google Chrome; Screen resolution 1024 by 768 pixels
Last Updated Date : 20 June 2019
Contact Us
:
State Secretary
Sarawak State Secretary Office
Level 20 , Wisma Bapa Malaysia
Petra Jaya, 93502 Kuching
Tel :082-441957
Fax :082-441677
email: